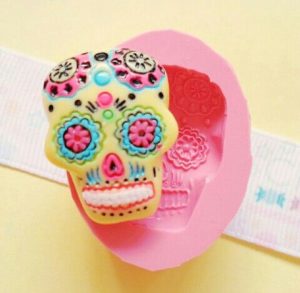 A large sea of painted faces flows steady down main streets in Mexico.  Ladies twirl their long vibrantly colored dresses and parade alongside colorful skeletons.  The sounds of strumming guitars and the smells of traditional Mexican favorites fill the air.  Aromas of marigolds and tamales combined with Oaxacan hot chocolate mark the occasion!
Día de los Muertos, also known as Day of the Dead, is a holiday celebrated in Mexico and throughout Latin American from October 31st through November 2nd.  It is a lively celebration and remembrance of those who have passed away.  Family members tell stories of their loved ones, prepare and share their favorite foods, enjoy music and dress in colorful skull costumes.  The skeletons and skulls (calacas and calaveras) are symbols normally associated with the day and are representations of the dead having fun and enjoying the festivities.
In the United States, the celebration coincides with our traditional October 31st Halloween festivities.  This year, experience a new tradition with Sugar Skull Melt and Pour Soaps!
Ingredients
Plastic Sugar Skull Soap Mold
12.75 oz Shea Butter Soap Base
1/4 Shimmer Red Blue Color Block
.75 oz Nature's Oil Certified Organic Essential Oil or Premium Fragrance Oil 
Directions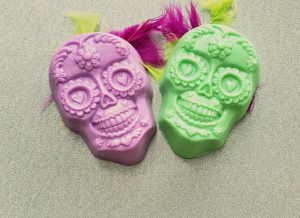 ​
Chop the soap base and color block into small cubes.
Melt the soap base and the color block together until the mixture is completely liquid.
Add .75oz desired oil to the liquid soap.

 

Stir gently until completely combined.
Pour the melted soap into the molds.
Paint the soaps using pigment powders.

 

(This is optional to prevent sweating)
Soaps can be packaged within 48 hours.
¡Feliz Día de los Muertos!