It's been a long and exciting month.  So many wonderful or not so wonderful, beautiful, fun, and fulling moments can be packed into a December each year.  Did you listen to that one Uncle tell the same dinner time jokes, maybe help your Grandmother with the cookies she only makes once a year, or create a new tradition of sprinkling reindeer food in the snow for Santa's helpers?  One way or another, this magical month is winding down and there's no better time than now to carve out a moment / place / setting for comfort, self-care, and general well-being.  As we look forward to ringing in the new year, the timing seems perfect to reset and nestle in before the big glittery ball drops.
Aside from all the salted baths and sugary scrubs you should try, the Danish tradition of Hygge is a must to explore.  Pronounced, "Hugh-ga,"  Hygge can be defined multiple ways and is also a very personal experience, but can generally be summed up with four C's: coziness, comfort, contentment, and connectedness.
This practice can tie a bow of peace and balance on the month of December with the simple sip of your favorite coffee shop brew, slipping on the plush robe your sister just gifted you, or finding that quiet moment to finally put pen to paper before the new year to set your intentions.  Hygge is all about finding ways, simple ways, to soothe, center, and generally feel good.  Try our favorite ways to incorporate Hygge into your week below: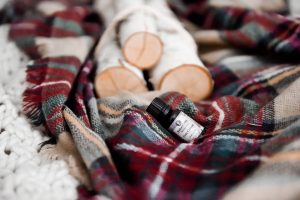 Brew a fresh cup of coffee or tea.  The cup will warm your hands and body with each sip.  Or, consider diffusing, Green Tea and Lemongrass fragrance oil while creating a cozy setting.
Make a fire.  The crackling noise, golden embers, or rustic scent immediately infuse a sense of tranquility.  If you don't have a wood burning fireplace, discretely diffuse, Campfire fragrance oil to tickle more than one sense by the fire.
Make your own oil roller bottle with your favorite fragrance or essential oil (we recommend Lavender and Rosemary fragrance oil).  Use the oil roller on your wrists then dab your neck before curling up under a warm blanket. 
Spend quality time with friends or family.  Consider hosting an informal get-together to watch a movie, play games, or even share in a new heart warming activity like creating positivity jars.  Fill take home jars for each other with pointed and personal uplifting notes.  Diffuse Warm Vanilla Sugar fragrance oil to sweeten the air.
Cook if you can!  Make or bake a simple meal such as a stew or soup and share with a loved one.  
Treat yourself to a day in bed surrounded by soft pillows and fresh sheets, maybe even a friend. The full season of your favorite show awaits.  Mist your room with a homemade Sandalwood and Amber scented room spray before you set-in for the comfy and relaxing time ahead.
Turn down the lights and diffuse your favorite oils. Consider turning on your salt lamp for a warm glow and adding a drop or two of fragrance oil on top.  The scents and soft light will make a room calm and comfortable.
Create an at-home spa retreat.  Bath, steam shower, hair mask, foot scrub or body balms…sky's the limit.
Cuddle.
Pull on the fuzzy socks Grandma gave you, fill your reed diffuser with Patchouli Ceadarwood fragrance oil and find a cozy corner to read a good book.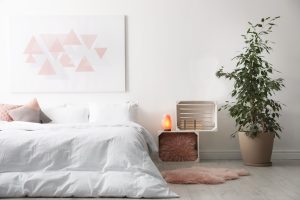 Hygge is all about finding simple ways to mindfully indulge and take time for self-care. Whether it is connecting with yourself or others that bring positivity and warmth into your life, your Hygge experience can help you find serenity or even recharge for the year ahead. Also, your experimenting doesn't have to end this week; try incorporating the practice throughout the winter and explore new ways to Hygge.
Share your Hygge experience with us on social media!