Call us crazy, but is it ever too soon to start dreaming of fall? It's our favorite season at Naure's Oil and although we are definitely still enjoying the summer fun, we have to admit that we're already excited by the thought of smelling pumpkin spice, sitting by campfires wrapped in plaid blankets, and making our children pose for pictures in pumpkin patches.  We…can't… wait!!  With that said, before we begin busting out the wool sweaters, dusting off our rubber wellies, and adorning ourselves in scarves we're pausing to be present in what's left of summer and simultaneously spicing it up with a new soap recipe reminiscent of our soon to come favorite time of the year.
If you're feeling crafty and excited for fall – try our Spice Shop inspired melt and pour soap recipe: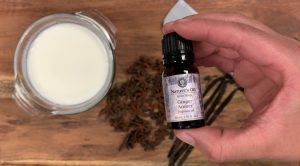 Ingredients & Tools
Silicone Soap Mold
1 lb Goat Milk Melt and Pour Soap Base
1 Tsp Vanilla Bean Seeds
A Handful of Anise Star Seeds
Nature's Oil Premium Fragrance Oils – Spice Shop Collection
*For this recipe, we recommend Sandalwood Amber fragrance oil from the Spice Shop Collection.  Sandalwood Amber is an earthy blend:  Sandalwood and Amber infuse the air with a striking combination of rich fresh top notes and warm spicy undertones. The aroma is surprisingly, enchanting and evocative, perfect for your next date.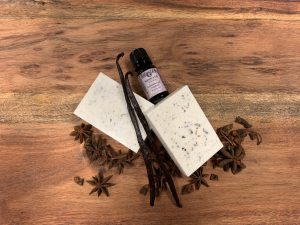 Directions
Before working with your soap base, carefully cut open a vanilla bean longwise and remove the aromatic seeds; set aside.  Next, chop your melt and pour soap base into one inch cubes.  Place the cubes in a microwave safe dish and melt in 30 second increments, stirring after each interval.  Once melted, add 5 – 10 drops of Sandalwood Amber fragrance oil and your vanilla bean seeds.  Stir quickly and then pour into your silicone mold.  Once your soap mix is poured into the mold, gently adorn each piece with a few anise stars.  If you are feeling extra adventurous, chop / crush the anise star seeds prior to melting the soap base and add to the mix when you stir in the vanilla bean seeds.  If you choose to add the chopped anise star seed it will create an added exfoliation aspect to the finished bar.  Let dry for a few hours or even overnight if you can wait long enough to try!
Hope you are enjoying the end of summer and back-to-school transitions are smooth!  Just remember, once the kiddos are back in class it leaves more time to make soap!  Sending love and spicy sentiments from Nature's Oil 🙂