It's the month of green!  The snow is melting and we are beginning to get glimpses of the grasses waking up from their dormant winter slumber.  There are even a few new seedlings starting to peek through the soil and reveal bright green sprouts that will soon bloom into colorful spring flowers.  Although we can't smell them quite yet, the excitement of the aromas to come are highly anticipated.  We also consider March the month of green because of the many people across the globe who celebrate St. Patrick's Day.  Lucky four leaf clovers, green beer and beads, and mischievous little leprechauns dressed in green jackets always seem to come to mind as we approach mid March.
In celebration of this special month of green, we've created a bath bomb recipe with a fun optional twist for the kiddos in our lives.  Those trickster leprechauns wanted to get in on the bath bomb making fun and hid tiny treasures inside each one.  If you make them with or for little ones in preparation for a St. Patrick's Day soak, you can include a tiny toy that will be revealed once the suds have simmered.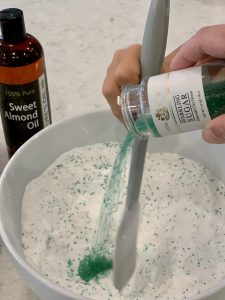 Ingredients and Tools
2 1/4 Cups Baking Soda
1 1/4 Cups Granular Citric Acid
1/4 Cup Cornstarch
3/4 Cup Sweet Almond Oil
3 Oz Green Sparkling Sugar Crystals
Assorted Bath Bomb Molds
Tiny Toys (optional)
1 Tsp Nature's Oil Premium Fragrance Oil or Certified Organic Essential Oil
*For this recipe, we incorporated Green Citrus Linden Premium Fragrance Oil; a soft  fragrance that will teleport you to a field of flowers. Enjoy a green floral linden flower scent with notes of green melon, lily of the valley, and rose.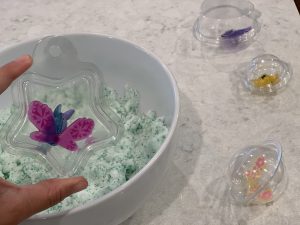 Directions
In a large bowl whisk together the baking soda, citric acid, green sugar crystals, and cornstarch and set aside.  In a separate bowl whisk the sweet almond oil and fragrance of your choice.  Carefully add the wet ingredients to the dry ingredients and begin to incorporate by hand.  If you are working with a child, this is the fun part where they can mix and mush the ingredients together!  Take about 5 – 8 minutes to mix, compresses and otherwise work the mixture together (imagine kneading bread dough).  Once all ingredients are fully incorporated you can begin to press the bath bomb mixture into your molds.  If you are going to include tiny surprises in your bath bombs, be sure to hollow out a spot with your thumb and press the toy inside before covering with additional mix.  (Please note, if you are including a toy, make sure it is not small enough to get lost down the drain) 🙂
Once your molds are filled, let them dry for 24-48 hours before removing and enjoying!!  
Wishing each of you new sprouts of love and joy this month of March and all year long!