It all started in grade school:  The excitement around this special day of the year, filled with sweet treats, butterflies, and thoughtful sentiments exchanged in fun and surprising ways.  As we get older the meaning of Valentine's Day may shift to acknowledge our children, spouses, significant others or even friends.  But, we'll never forget those early years, the excitement around a class party, blushing over a Valentine from a crush, or hoarding all the heart shaped candy so you were supplied through mid summer.  This month at Nature's Oil, we decided to get scent-ti-mental and find fragrances that reminded us of our favorite childhood Valentine's Day memory.  What scent takes you back to February 14th in elementary?
Blueberry Pancakes – "Every Valentine's Day my sister and I would wake up to the smell of pancakes.  My dad would do his best to make us blueberry pancakes in the shape of a heart for breakfast.  He would say, 'Remember, I was and always will be your first Valentine!'"
Candy Apple Caramel – "In grade school our principal always had a jar of caramel apple lollipops. They were her favorite sweet treats and on Valentine's Day, she would give one to each student.  Although there was so much candy exchanged that day, everyone looked forward to the coveted caramel apple lollipop."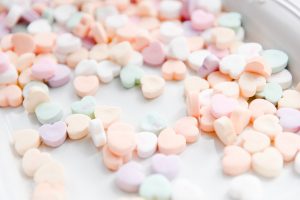 Candy Concoction – "All I remember from Valentine's Day as a kid was how much candy we were allowed to eat!  It was like the teachers gave us a hall pass this day that was more valuable than any other holiday or special occasion celebrated at school.  So much candy, all day, and the stomach ache once we got home always seemed worth the craze that day at school."
Chocolate Sugar Cookies – "This fragrance reminds me of the parties we would have in middle school.  The teachers would bring in sugar cookies, lightly sprinkled with red sugar crystals.  We would exchange our paper notes covered in stickers and unwrap heart shaped chocolates.  The smell of chocolate combined with sugar cookies brings back fond memories of those sweet days."
Creamy Root Beer Float – "On special occasions my Grandpa would pick me up from school and treat me to a root beer float at the ice cream shop.  Valentine's Day was always a treat because the ice cream shop would top the float with heart shaped candy messages."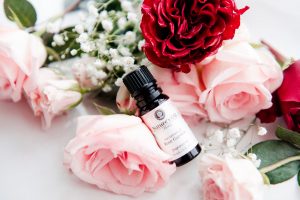 Rose Garden – "My Dad would always buy my Mom flowers for Valentine's Day; a huge bouquet, normally all roses.  They were her favorite flower and she would always let me take one out of her bouquet to give to my teacher that day.  I always thought it was so sweet and thoughtful that she would share her roses with my teachers every year."
P.S. I Love You – "All the excitement around what kind of Valentines you were going to hand out and which classmate would get which pre-printed message filled the whole week leading up to the class party with a flurry of giggles, debates, and butterflies.  Then during and after the party you would decode the Valentines you received to try and figure out if a special someone shared the same sentiments.  It was a day you kind of felt like a grown-up, tip-toeing into those first feelings of "love."
So many scents, so many fun and warm memories.  Happy Valentine's Day from Nature's Oil!