Over the past few weeks, we have all been managing our unprecedented circumstances in different ways.  Separately, but also together as whole, we have had to find new ways to live, learn, and cope.  Our common ground is obvious but our individual responses are varied far and wide. Some friends are struggling with the daily juggle of working from home, homeschooling, and staying sane.  Some family members are thriving with creature comforts of their sacred space and a more streamlined routine.  Then there are those we know who have somehow managed to start a new hobby / trade or have reconnected with their artistic passions that would normally take a backseat to everyday life.  There is no defined or perfect way to navigate these weeks, but taking a quiet moment to yourself, to think (or stop thinking), breath, and just 'be' can certainly go a long way.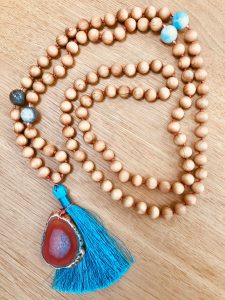 At Nature's Oil, we have been working to find these quiet moments, if only briefly, to center, replenish our energy, and feel peace.  One popular tool that has come in quite handy during these moments is a beaded mala.  A mala is a string of beads that can be used to meditate, soothe, or simply symbolize an intention such as peace or gratitude when worn or displayed.  They are frequently used as jewelry but have a deeper meaning and purpose.  The word mala is derived from the ancient Sankirt language and means, 'garland.'  A full garland is made of 108 counting beads plus a guru bead which denotes the beginning and end of the garland for counting purposes.  Sometimes the guru bead is marked by a large gemstone or tassel.  It not only represents, the end or beginning of a full cycle of mediation / prayer, but it's also symbolic of gratitude and a reminder of your intention.
Malas, also known as prayer beads, can be made of wood, gemstones, or even seeds.  The counting beads are typically strung on silk thread and hand knotted between each bead.  Sometimes, they are constructed of 54 or 27 beads and can be worn as a bracelet.  A mala can help focus your mantra during a mediation or calm a restless spirit by simply stroking the smooth beads.  You can also create a walking peace filled meditation for yourself when wearing a mala as you are reminded of your intention and grounded by its presence on your person.  When worn or used in a meditation practice you can apply Nature's Oil fragrances to wood beads or cloth knots.  Your selected aroma will help further soothe and create a tranquil experience; we recommend Sandwood 2 fragrance oil.
Throughout these next few weeks, we hope you can find moments of calm and balance. Incorporate a mala and your favorite Nature's Oil scent to help bring peace into your world.
The malas featured in this article were created by Tamela Rachello.