With a month still left until the kids (maybe) go back to school, we find ourselves looking for new activities to try or family fun projects that can later double as holiday gifts for the grandparents!  We've made sidewalk chalk, flower mandalas, and even homemade bubbles.  Now left in the final stretch of summer, scratching our head for new inspiration, we've decided to diffuse a few oils that can boost creativity and let the ideas flow.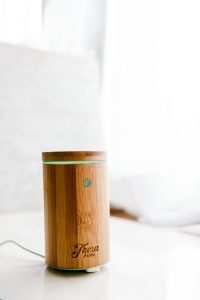 Before coming up with your next few summer project ideas, we recommend diffusing the following Nature's Oil favorites for brain boosting, mind calming, and invigorating effects:
Tuscan Blood Orange 2: A zesty citrus blend of rich blood orange, tangy grapefruit and juicy mandarin infused with melon, ripe peach and delicate jasmine while subtle notes of white musk and precious woods emerge from the base.
Eucalyptus Mint:  Stay energized with this refreshing, perfect combination of eucalyptus and peppermint.
Green Tea:  This tea blend is subtle, yet comforting. Herbaceous and green, this scent captures the warmth of a fresh cup of tea.
Patchouli Zest:  Stroll through the park and breathe in the fresh clean air. Notice the scent of patchouli brightened with a hint of mint and zest of citrus as you walk past trees and vegetation.
At Nature's Oil, we diffused Eucalyptus Mint to get our creative juices flowing and came up with these relaxing and enjoyable projects: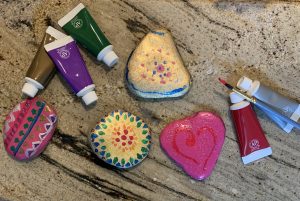 Painting Garden Rocks
Take a nature walk alone or with some of your favorite people and while exploring the outdoors, be sure to find a few flat rocks to bring home for your painted garden rock project.  After you return home, you can set-up your rocks, paints, and brushes and create fun designs on the smooth flat surfaces.  We spray painted a solid color to start our garden rock creations and then hand painted individual designs.  Once dry, these are prefect to adorn certain corners of your garden, home, or they will make for a great gift.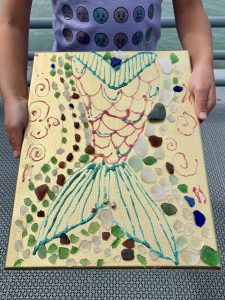 Sea Glass Art
If you're lucky enough to travel to a beach this summer don't forget to bring home your sea shells and sea glass treasures.  If you stay home, there might be a jar or drawer filled with shells and glass from trips long ago.  Use your beach treasures to create a new piece of artwork.  We painted a canvas with the kids and adhered their special sea glass to the painted pieces for a beautiful three dimensional finish.  
The key is to get creative with the tools and objects you may have around the house or can be found in nature.  Start with Nature's Oil and let the masterpieces unfold!